2023 AUCTION MASTER...
Has Been Officially Decommissioned and Replaced with the...
2023 EXECUTIVE DRAFT MASTER
CLICK HERE FOR DETAILS ON THIS SPECIAL PRODUCT!
The Executive Draft Master Handles All the Capabilites of the Auction Master & More!

The Executive Draft Master comes with official FFMastermind.com
PROJECTIONS and WEEKLY UPDATES through the Preseason.
FREE WITH A DRAFTER'S EDGE OR SUPER BOWL PACKAGE ORDER!

Back to top of page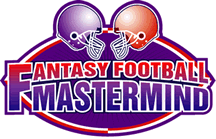 The Definitive Fantasy Information Service
Mastermind Moment
2023 Madness NFL Rookie Draft Reference Guide
Monday, April 24th, 2023
Premium Pro Bowl and Super Bowl Package Subscribers take note. The time has come. The 2023 Madness NFL Rookie Draft Reference Guide has been released for your viewing pleasure. This
Read the Full Mastermind Moment