Click HERE to View the Full Premium Products Page
2023 Fantasy Football Exective Draft Master Software
Formerly The Auction Master
(Exclusive Partnership of FFMastermind.com & FantasyDraftTools.com)
VERSION XIII - 9/3/23
ALL UPDATES INCLUDED IN ONE PURCHASE FOR 2023!
Fantasy Football Cheat Sheet & (Auction) Draft Tool Excel App. Only $18.95!
Looking for a Fantasy Football Draft Kit Tool that comes with Customizable Fantasy Football Cheat sheets and Updated Projections from the Definitive Fantasy Football Information Service? Look no further than the 2023 Executive Draft Master. FFMastermind is proud to announce we have continued our partnership with FantasyDraftTools.com to offer the ultimate in Fantasy Football Draft Kit Tools with Customizable Fantasy Football Cheat sheets! We've combined our "Masters List" (customizable positional fantasy football cheat sheets) and FantasyDraftTools.com's Fantasy Football Draft Guide Tool (customizable draft day software) to create the 2023 Executive Draft Master.

Full Customization:

* Fantasy Football Draft Type (that's right, one tool takes care of BOTH Auction draft styles and Standard Draft Styles)

* The amount of teams (8 through 20)

* Ability to add Custom Team Names

* Roster Spots (up to 30)

* Minimum Auction Price ($1 to $100 or enter your own)

* Total Team Salary Cap ($25 to $1000), if All Teams have the Same Cap

or

* Individual Salary Caps for each team (Usually applicable for Keeper Leagues)
Our software is Microsoft Excel based and is compatible with:
Windows - All versions of Windows PCs running any version of Microsoft Excel, including Excel 2010 & 2013
Mac - All Versions of a Mac running any version of Microsoft Excel, including Excel 2011, but not Excel 2008
Our software is Microsoft Excel based and is not compatible with:
Mac - Any version of Mac that is running Microsoft Excel 2008.
Mac version of Excel, "Numbers"
iPads
Open Office version of Excel, "Calc"
Microsoft Works
Google Docs
Google Sheets
Any Tablet, including the "Surface" running Microsoft Excel
Office for iPhone/iPad
Microsoft Excel "Mobile" version
Microsoft Excel "Starter" version

Remember, since our fantasy draft software utilizes Microsoft Excel, there are no additional installations required (assuming you already have Microsoft excel)...if you don't, grab a buddy of yours that does, because these tools will make your draft night run very smoothly.

Some of our latest enhancements include:

We are pleased to announce our latest enhancement, we've added a "Standings" option so you can see how your team ranks against all the other teams (sortable by any position or by total fantasy points):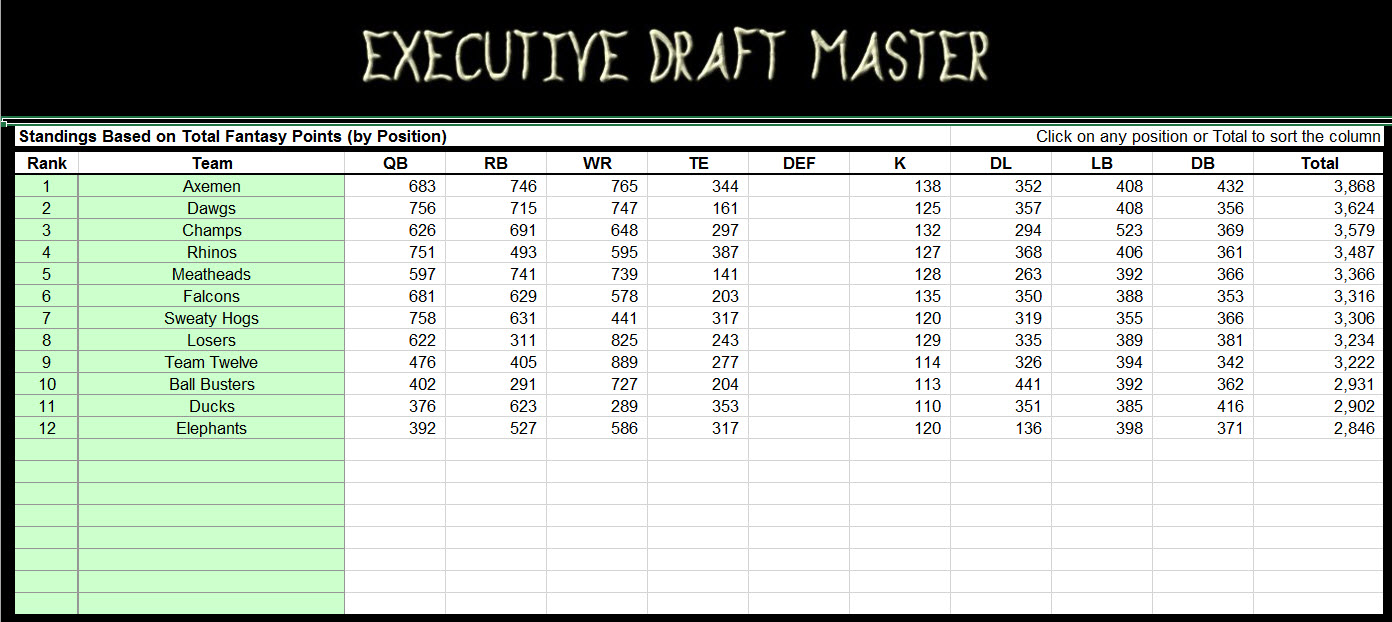 "All Players - Top List" - Are you used to using a Top 100 or Top 200 list? How about using a Top 500 !! We sort all of our projections based on your league settings. Now you can easily find the "best player available". Many of our customers asked for it, so here it is!!

*** Group Positions Together on Top Player List ***
On the Master's List sheet, in the "All Players" section, we've added a filter so you can easily see positions grouped together. Example, a customer has a flex position for RB and WR. Click on the drop down arrow and have only those 2 boxes checked!
*** Pre-populated Auction Values ***
- Starting Auction Value - represents the fantasy football auction value at the start of the draft before any picks are made, based on your customized league settings.

- Current Auction Value - represents the current fantasy football auction value throughout the draft. Meaning, as picks are made and dollars are spent, the Current Value is updated accordingly. If owners are overpaying for players, the current fantasy football auction value will go down as there is less money to be spent on the players, however, if owners are getting players cheaper than the Start Value, then the Current Value will go up as there is more money than expected to be spent.
- IDP League? - If you are in an IDP league, great, we've had that functionality for years.  However, if you are not in an IDP league, we give you the option to hide the DL, LB and DB cheatsheets with less screen real estate being used during your draft.  You spoke up, we listened.
- Decimal Options (applicable for Auction Drafts) - 0, 1 or 2 decimals for those of you play in leagues that require auction values less than $1
*** Full Sorting Capability ***
- Sort every column of every cheatsheet (with Ascending and Descending Options)...sorting automatically flows throughout the software
- Sort our "All Teams" grid by the order they were drafted (like those clunky sticker boards) or sort by grouping all positions together...all while color coding each position
Check out the following you-tubes explaining this ultimate fantasy draft tool...
Feel free to use the Executive Draft Master for one or all of your fantasy football drafts this season. It can be saved like any other excel file that can be transferred from your work computer to your personal computer if need be. No need to install any software.

After your purchase, you will have access to ALL fantasy football projection updates. A player is injured, cut or traded, you'll know about it the latest projections. So, have confidence buying the product now and have still have access an updated Executive Draft Master every time we update projections throughout the summer up until the season starts.
EASY UPDATES!
If you have already entered information on the Scoring and/or DraftBoard sheets in a previous version of our Executive Draft Master, we've made copying that information to this version that much easier. You will see an "Import Previous Version Information" button near the bottom of the Scoring sheet. Here you will be prompted to open the previously saved version from your computer and we'll do the rest!!!

Great News!!! Our fantasy football draft tool now works on your iPad!!!


Our fantasy football draft kit tool works with Microsoft Excel and although there is no app for Microsoft Excel on your iPad, there is an app that will take you to a "virtual" session of Microsoft Excel. Please read this entire page if you intend to use our fantasy football draft kit tool on your iPad.

--------------------------------------------------------------------------------

On January 8, 2012, Onlive Inc. released an app called OnLive Desktop which is a service that provides a seamless, no-compromise, instant-response cloud-based PC desktop, wherever and whenever you want it. OnLive brings to your iPad a high-performance PC experience, regardless of the content, even when interacting with fast-action media.

Features of OnLive Desktop include:

■Instantly view, edit and create documents using actual Microsoft Office, Word, Excel and PowerPoint
■Easily Transfer files between OnLive Desktop and other devices
■Experience high-performance, instant response PC applications
■Interact with lag-free animation and video

Based on groundbreaking video compression technology, OnLive harnesses the power of cloud computing to deliver a seamless, no compromise remote PC desktop solution.

--------------------------------------------------------------------------------

DISCLAIMERS:

■FantasyDraftTools.com and FFMastermind.com does not have any affiliation with OnLive Desktop, however, we are providing an option for an app that can be used when trying to use our fantasy football draft tool on your iPad.
■Since OnLive Desktop is a "virtual" computer, you need internet access to use OnLive Desktop. Therefore, you can only use our fantasy football draft tool with OnLive Desktop when you have an internet connection. Our recommendation would be to use Wi-Fi instead of 3G for a better user experience. If your internet connection is not strong, we do not recommend using OnLive Desktop to run our fantasy football draft tool as your session may be "choppy".
■If you plan on buying our fantasy football draft tool to only work with OnLive Desktop and you will not have an internet connection during the draft, DO NOT BUY OUR PRODUCT as we will not offer any refunds due to issues with OnLive Desktop.
■Our "Summary" does not fit entirely on your iPad screen, but you can easily move it side-to-side to see the hidden content.
■When drafting a player, we recommend that you use the "Draft Player" button for easier navigation.
■OnLive Desktop currently works with iPad, but not iPhone/iPod

--------------------------------------------------------------------------------

Steps to use the iPad app "OnLive Desktop" to run our fantasy football draft tool:

1.Create a free account at http://desktop.onlive.com/ Free accounts store up to 2GB of storage, which is plenty of room to store our fantasy football draft tool
2.Download the OnLive Desktop app from the App Store
3.Once you purchase our fantasy football draft tool, you will log into your premium account and download the program file.
4.You need to use a computer's web browser to upload our fantasy football draft tool (Microsoft Excel file) to the OnLive Desktop server, https://desktop.onlive.com/account/myfiles
5.Launch OnLive Desktop on your iPad
6.Log in to your OnLive Desktop account
7.On the right hand side of the screen you will see a shortcut for "Documents" with the OnLive Desktop logo on it
8.Double Click the "Documents" shortcut
9.Open your fantasy football draft tool that you just uploaded to OnLive Desktop server (from step 4 above)
10.That's it...now you can use our fantasy football draft tool on your iPad

______________________________________________________________________
OUR SOFTWARE WILL NOT RUN ON ANY TABLET, including the Surface running Microsoft Excel!

GOOD LUCK IN YOUR DRAFT !!!
"Wow. You guys really outdid yourself with the EDM. I used it in five of my drafts
and it was as smooth as silk! The features are very easy to learn and the fact you
provided projection updates throughout the summer made it an easy choice to buy. Best of all, I won 2 of my leagues and finished in the top 4 of the others!"
Larry Gander (2009 EDM Subscriber)
Cheatsheet & Draft Tool Excel App. Only $18.95!
Back to top of page